Hello and welcome to another episode of From Darkness to Light a podcast about healing, accepting love and learning to live life to the full.
– A few weeks ago I went on a weekend long retreat. Here are my photos.
– Journaling: What is it that my heart prays for most? What is my intention? What is your innate purity and essential nature? What is under your clay shell?
– This is what I have to say to you…
– Eye mandala: What is visible through your eye of presence in the now?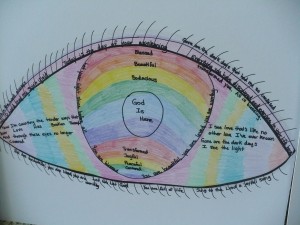 – "Gone Are the Dark Days" by Point of Grace – Lyrics
– Written messages added to mandala
– "Everything you've ever done, every person you've ever met, every experience you've ever had, is a part of who you are today. Adding interesting layers to your being, and colorful depths to your soul. Everything needed to be as it was, so you could grow as you did and do."
– Clare of Assisi's letter to Agnes of Prague
– Awakening Now by Danna Faulds
– The decision to end the podcast with episode 80
– Thank you for your support
– You are not broken or in need of fixing by Matt Licata, PhD
– Please stay in touch!
Thank you for listening and thank you for opportunity to be a part of your life for the past 80 episodes. It has been an honor and a privilege. Until we meet again, God bless.
Contact
feedback@fromdarknesstolightonline.com
(318) 21-LOVED
318-215-6833 You can also leave a voice mail directly via the SpeakPipe widget on the website.
Review and subscribe in iTunes or in your favorite podcast app.
You can also listen via the Stitcher Radio app. During registration, enter DARKTOLIGHT as the promo code for the chance to win $100 and to benefit the show.
Follow on Twitter
Like Us on Facebook
Podcast: Play in new window | Download
{ 0 comments }